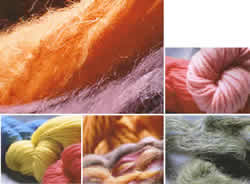 Super Sew Imports is a long established supplier of hand knitting yarn, with an extensive knowledge of the industry gained over more than 25 years of experience. For the last 8 years the company has been headed by Jacquay Royston who has carried on the tradition of quality and service established by her predecessors.
Representing the interests of a number of highly professional Turkish factories, we can offer you an endless choice of yarns at the very best prices, whether it's a clearance deal or a long term range.
One of our strong areas of expertise relates to the supply of discount retailers, as we have an in-depth understanding of their specific needs coupled with the experience to recommend the most suitable hand knitting products for your particular customer base. Our Marketing Director, Andy Shockett, has worked on both sides of the fence and therefore has an extensive knowledge of this area of retailing, both from the point of view of the buyer and the supplier.
Our door to door service includes everything from the choice of products at the right price and quality for any specific market, a full design service including planograms and in store layout, plus all import documentation and transport from factory to final destination. Once an order has been placed, you can relax safe in the knowledge that we will do the chasing, produce and test samples and follow your orders every step of the way to ensure that everything will be delivered correctly and on time.
So, if you would like a free, no obligation quote please get in touch. We're very happy to come and see you and offer any advice.
Knitting is seriously "on trend". Can you afford to be without it?

Google UK reported recently that searches for knitting had increased by over 150%, while the search term 'knitting for beginners' has increased by 250%.